List of dangerous items which cannot be sent overseas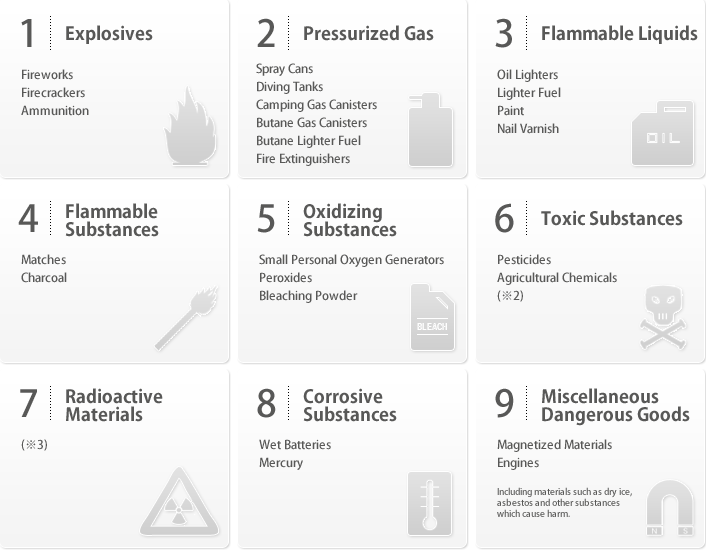 Many aerosols and spray cans arrive at our warehouse, but as indicated, these are classed as dangerous items and cannot be shipped.
— Non material goods cannot be purchased
Purchasing of non material products is restricted. Examples of non material goods: gift card codes, game accounts, any services etc.
Japan Post
Adult goods and obscene materials
Child Pornography
Diamonds (including rough and fabricated diamonds)
Counterfeit, altered or fake currency
Postage stamps and fiscal stamp
Official letter
National Treasures
Important Cultural Properties
Important Works of Art, etc.
Pirated CDs/DVDs/Software
Products with an undeterminable origin
Lottery tickets
Money

Spray
High pressure gas
Gas (Gas bombs, cartridges)
Gas lighters
Portable Oxygen
Natural Gas
Helium Gas
Chlorofluorocarbons
Nitrogen / Liquid Nitrogen
Small personal oxygen concentrators
Oxygen cylinder (Aqualung)
Aerosol Spray Cans (Hairspray, fragrance spray, lacquer spray, Air Salonpas, etc.)
Enriched Oxygen
Gas Products for Camping (Portable gas stoves, etc.)
Fire Extinguishers

Combustible liquids and materials
Table tennis balls
Fuel (Gasoline, Oil)
Matches
Oil Lighters
Paint
Perfume
Nail Polish, Nail Polish Remover
Flammable Items, Items containing a flammable warning (sunscreen, shampoo, adhesives).
Adhesives (Glues or other adhesives included with figures, toys, eyelash sets, etc. will incur a disposal fee)
Alcohol
Paint thinner
Lighter Fluid
Cooking Oil

Organisms (live animals, insects, plants and vegetation)
Items with soil
Plants, Bonsai, Decorative Plants etc.
Livestock Feed
In accordance with CITES fauna and flora regulations: elephant trunks, tortoise shells, animal furs, alligator skin, snakeskin, lizard skin, etc.
Plant seeds
Insect Specimen Samples
Taxidermied Animals

Air guns, toy guns (imitation, models), airsoft guns
Swords (real, fake or imitation)

Battery
Battery chargers
Lead-acid/Lead Storage Batteries
Nickel hydride (NiMH) Batteries
Lithium-metal batteries (Limited to certain countries)
Lithium-ion batteries (Limited to certain countries)
Products with aforementioned built-in batteries (Limited to certain countries)
Magnets
Electric generators/Engines

Gunpowder/Pyrotechnic (fireworks, crackers, ammunition, etc)
Suspension/Shock absorber
Items that have fuel or oil inside, or that might be able to contain it (including both used and new items).
Containers, cans, gasoline tanks, carburetors for containing oil or fuel (including both new and used products)
Airbags (for vehicles)
Steering wheels containing airbags
Air Conditioners
Seatbelt Pretensioners

Harmful drugs
Psychopharmaceuticals
Drug Paraphernalia
Anesthesia and related drugs
Poison, toxic and/or hazardous substances
Pesticides
Tobacco/Cigarette
Insect repellent
Agricultural Chemicals
Organic Solvents

Corrosive substances
Mercury
Chloroform
Bleach
Peroxides, Oxidizing agents
Charcoal
Dry ice
Asbestos
Uranium
Plutonium
Thorium
Nuclear waste
Radioactive substances
Sodium hydroxide
Barium carbonate
Formalin / Formaldehyde
Printer Toner Cartridges
Ink, Ink Cartridges (In the case documentation is required, we may not be able to provide certain documents to ship ink abroad)

There are other items not included in the above pages but are rejected for sending by Japan Post (before ordering please check regarding these):
Speakers
Mobile batteries, Smartphone batteries
Electronic cigarettes (IQOS, etc)
Items that may require provision of safety documents (sunscreen, liquid and cream deodorants, liquid foundation, detergents etc)
FedEx, DHL and UPS courier services
As international shipping by courier is generally more strict than postal services, certain items that can be shipped by Japan postal services are not sent out by courier. Some of these restricted items are as follows:
Food and beverages
Sanitary goods and cosmetic items
Alcohol
Knives
Precious metals
Any type of liquid

If a parcel that contains these kinds of items will be shipped by one of Couriers, it will be stopped by the Customs and will probably be disposed.
Remambo will not process shipments containing prohibited items.