Aniplex Plus sells items with characters from popular anime shows like Fullmetal Alchemist, Gintama, and the Fate franchise. Their wide range of products includes toys, stationery, and full box sets of anime. Aniplex Plus is for you if you want things like these from your favorite anime or character.
---
What is Aniplex Plus?
Aniplex Plus, which is also called Aniplex+, is the company's official website in Japan. Since it was founded in 1995, the Aniplex production company has planned, made, and sold many popular anime shows, like Banana Fish and Darling in the FranXX.
They also sell all of Sony Computer Entertainment's video game music and sound tracks. Because of all of these things, we think this website is one of the best places to buy anime online in Japan besides the other largest online store called Animate.
Why shop at Aniplex's Japanese online store?
The Japanese Aniplex Plus store sells DVDs and Blu-rays of anime series that are only available on the website. The DVDs and Blu-rays come with free gifts that can't be bought anywhere else. They sometimes even sell things that were only available at certain events. The Japanese Aniplex Plus online store sells a lot of digital media, as well as stationery, food, exclusive figures, plush toys, badges, trading cards, and a lot more.
Even though the US branch has a website called Aniplex+, it doesn't have nearly as many options as the Japanese store. Most of the time, the prices are also lower on the Japanese site because you are buying directly from Aniplex.
Does the Aniplex store ship overseas?
Aniplex does not ship abroad. But when you use Remambo proxy service, you'll get help with Aniplex's entire buying and shipping process and so you can score some great deals on Aniplex online store. Ordering items from this website is really simple with Remambo.
Our proxy shopping service helps thousands of people living outside Japan buy from Japanese online stores that are usually impossible to purchase from when overseas.
How to order and buy from Aniplex Plus?
Step 1: Go to https://www.aniplexplus.com/
Step 2: Search for items
Step 3: Copy product link and tell Remambo what to buy
Once you have found a product you want to buy on Aniplex Plus website, copy the URL of the page. To do this, you will need to have the product page in front of you. Move the mouse cursor to the address bar, and then click Ctrl+A to select the entire URL. Press Ctrl+C to copy it. Now place your mouse on the "Product web page" field, then press Ctrl+V to paste the address of the product page.
Submit an order with Remambo and we will then process the purchase on your behalf.
→ By the way, you can always find Remambo "Add item URL" order form here: https://www.remambo.jp/neworder
Step 4: Pay for the order from your Remambo account page
Step 5: Consolidate and choose shipping method
You will receive a notification from us when your package is at the Remambo warehouse. From that moment, we can consolidate several of your orders together or repack the package if it is too big or fragile. Choose which items you would like to ship together, select shipping method and delivery address. You will be able to edit titles in the shipping label and customs declaration. Also you may leave a comment to our warehouse staff about your parcel.
Step 6: Pay international shipping cost
We will quickly ship the parcel to you. All our shipping methods have tracking numbers. Please wait for the parcel arrival. Happy shopping on Aniplex website!
Best Japan Proxy Shopping Service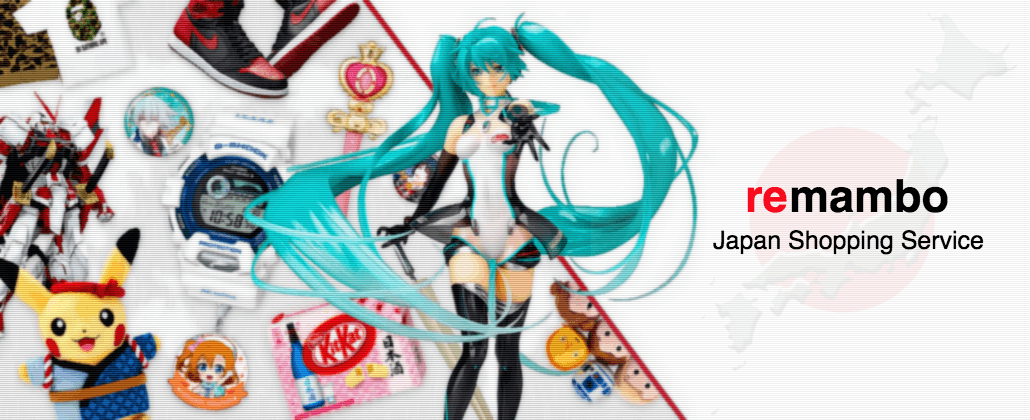 Do you love shopping in Japan? We created our service back in 2015 to help foreign customers who want to buy from Japanese online stores and auctions. We offer the easiest way to buy from Japan.
→ Try in now