---
What is Gunpla?
Gunpla, a linguistic blend of words of "Gundam plastic model", is the common name for plastic model kits depicting the vehicles and characters of the fictional Gundam anime (animated adult cartoons) universe by Bandai. These kits have become popular among mecha anime fans and model enthusiasts in Japan and in other nearby Asian countries since the 1980s.
How to choose the right Gundam model kit?
Once you've decided that you want to get into Gunpla kits, an important step in picking your first model is understanding the Gunpla grade and scale system. Whether you are new to the world of gundam or you are a seasoned gundam enthusiast, buying a new gundam model kit is a decision that requires careful consideration, especially if you need the best gundam experience.
Understanding the Gundam Gunpla grades and scales
Gundam Grades

| | | | |
| --- | --- | --- | --- |
| Grade | Abbreviation | Scale | Size |
| High Grade | HG | 1/144 or 1/100 | 13cm (1/144) or 18cm (1/100) |
| Master Grade | MG | 1/100 | 18cm |
| Perfect Grade | PG | 1/60 | 30cm |
| Real Grade | RG | 1/144 | 13cm |
| Super Deformed | SG | N/A | 8cm |
There are five Gunpla kit grades that you can buy in the Japanese market. They are the High Grade (HG), Master Grade (MG), Perfect Grade (PG), Real Grade (RG), and the Super Deformed Grade (SD). Let's look at each grade in detail.
High Grade
High Grade Box Art
The most collectible are High Grade kits because the line-up of Gundams and mobile suits in this grade, whether it be a protagonist's or an antagonist's mobile suit, is vast and High Grades are one of the most affordable grades available aside from the Super Deformed kits.
HG kits have two scales: 1/144 which is around 13 cm tall depending on the model. Some gunplas are a little bit taller like Sazabi and Sinanju, while some High Grade models are somewhat shorter like Exia. 1/144 kits are nice to collect and display because they occupy less space than Master Grade or Perfect Grade kits. The other scale is 1/100 which is around 18cm tall.
You can readily determine that it's a High Grade kit because it will have the abbreviations "HG" on the box and its box art is in landscape format. As for the 1/100 Scale High Grade kits, you won't be seeing any HG letters on the box, though you'll know it's a 1/100 HG kit if it doesn't have "MG" or "Master Grade" printed on the box art, and the box art is usually in portrait format. Don't get confused between 1/100 HG and 1/100 MG kits! First timers might get confused because they looks the same.
With regards to detail, HG kits already look great when built straight from the box without any painting. They have a moderate amount of parts to assemble. Adding some panel lining will boost the detail and appearance of your High Grade kit as well as some minor painting in some areas. High Grade kits include some foil stickers for added detail of your model and sometimes the kit also includes some clear stickers as the model's decals.
The ability to pose models has been improved through the years. In older High Grade models during the 90s, the articulation HG kits were limited but satisfactory, but in recent years, Gunpla technology has advanced a lot and articulation of newer HG kits are superb to the point of being comparable or equal to that of Master Grade kits!
Remambo recommends: High Grade kits are suitable for everyone, and it's usually where first time Gunpla hobbyists start their Gunpla modeling journey.
Master Grade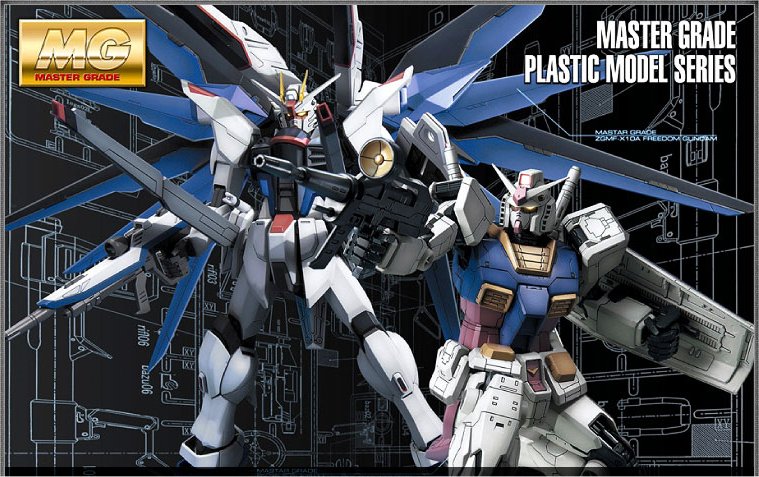 Gunpla Master Grade Box Art
Now if you want more detail, mechanics and an inner frame skeleton to show off, then Master Grade kits are for you! They are the next level up from HG kits, and while more expensive, the pay-off is worth it due to the kits' level of detail, included gimmicks, mechanics and some dry rub decals that will greatly improve the awesomeness of your model.
Master Grade kits only have the 1/100 scale which are usually around 18 cm tall. Some recent MG kits are much larger like the MG Sazabi Ver. Ka and MG Unicorn Full Armor. MG kits have the "MG" abbreviation on the box art, which is colored gold so that you don't miss the labelling. The kit box sizes vary depending on the number of assembly parts with the largest being from models like the MG Sazabi Ver. Ka.
The details of an MG kit is where it starts to get very interesting and amazing. The big difference between an HG and an MG kit is that MG kits have an inner frame or skeleton mechanic where you put on the armor pieces one by one just like a Samurai warrior would do when preparing for a battle. Color variation and separation of the armor pieces are also well designed; most MG kits don't need additional painting since they already look awesome straight from the box like HG kits. Some MG kits also include some LED light-up mechanics.
Remambo recommends: Master Grades for the enthusiastic Gunpla modeler/hobbyist, which craves more detail on their models. MG kits requires more effort and work but the payoff is wonderful.
Perfect Grade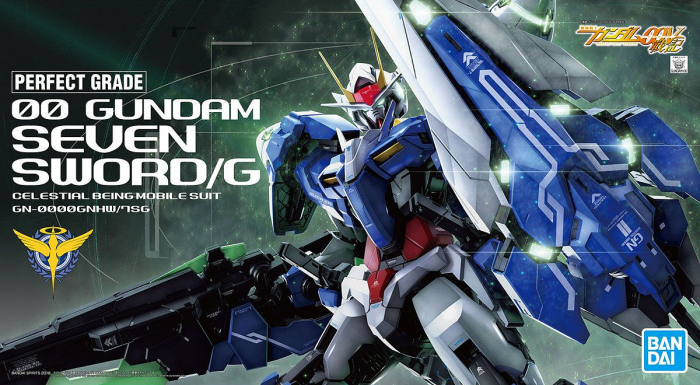 Gunpla Perfect Grade Box Art
Perfect Grade kits are the holy grail of Gunpla model kits! They're the best of the best in detail, mechanics, and gimmicks, and are the largest highly detailed scale available. PG kits are the most expensive in the market because they have the most number of parts to assemble and their scale size of 1/60.
Perfect Grade 1/60 scale kits are around 30 cm tall. They're the tallest Gundam models that you can build, and take up a lot of display space! So, you must prepare your display area well. In essence, they are Master Grade kits with so much detail they will blow your mind away. They also include decals like MG kits and usually have LED light-up mechanics, too! They cost a lot of money, but as in all Gunpla model kits, they are worth it.
Remambo recommends: Perfect Grades Especially for enthusiastic Gunpla modeler/hobbyist who wants to take his hobby to the next level!
Real Grade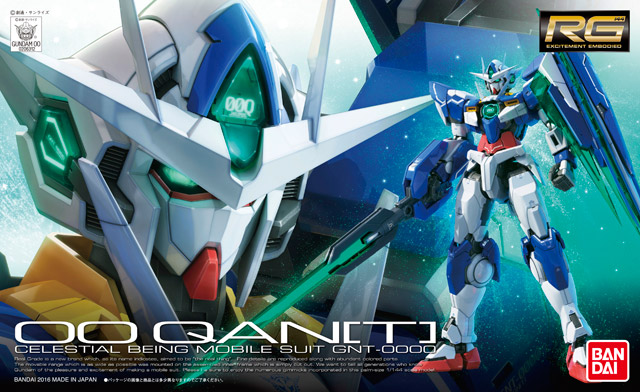 Gunpla Real Grade Box Art
If you want a Perfect Grade kit but don't want to hurt your wallet too much, then this is the kit for you! Real Grade kits are roughly palm sized Perfect Grade kits. This is the latest model grade that Bandai has begun producing, and they are one of a kind! It's the first model grade that is 1/144 in scale but still has an inner frame just like MG kits. How cool is that?
The RG kit's level of detail are comparable to PG kits. Articulation in RG kits is as best as it can get, armor color variation and separation is also at its finest in RG kits. They are heavy on decals, too. Now you know why it is called "Real" Grade, because the goal of this model grade line-up is to produce the most realistic but affordable Gundam and mobile suit model kits available. To pick out this kit grade, look for "Excitement embodied" on the box art and the abbreviation "RG".
Siper Deformed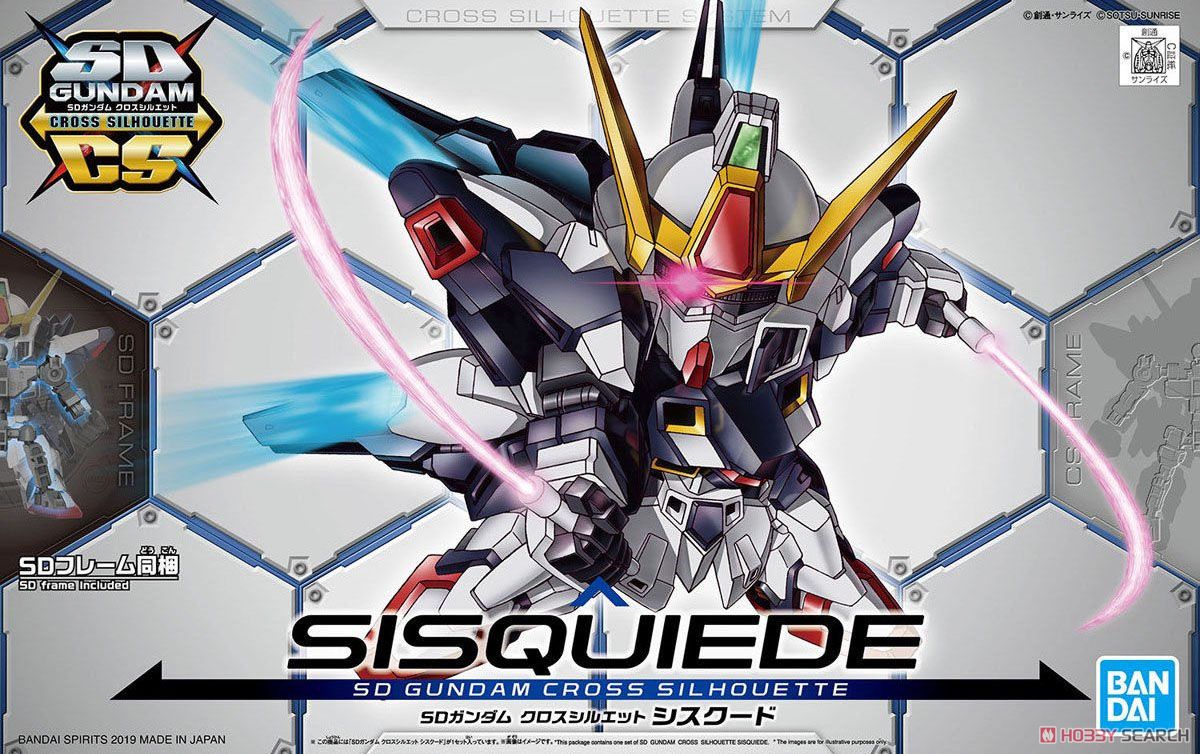 Gunpla Super Deformed Grade Box Art
Super Deformed kits are a whole new world of Gunpla. They have no scale but are around 8 cm tall, they are very short because SD kits are "chibi" in form, hence "Super Deformed". They are the most affordable kits available and the least amount of parts to assemble. The most popular series in this model grade are the Brave Battle Warriors and BB Senshi, which have their own anime series.
Remambo recommends: Super Deformed kits for those who want something different and "chibi" in appearance. They are a great choice if you want to expose your children to the world of Gunpla since they are easy to assemble and cute in nature.
How to buy Gundam kits by Grade and Scale?
No matter which Gunpla model grade you choose to purchase, you will surely be amazed with the technology and ingenuity that has created them, and you will be proud to have built and assembled them yourselves, and our service is here to help you buy it online from Japan.
We created our service to solve all the problems involved in buying anything from Japan and to help our customers to get Gundam Gunpla kits collections from Japan. People from all around the world have found some of their favorite items through us and have already fallen in love with shopping with Remambo.
→ Try in now