Bandai is one of the largest companies in the world that makes toys.
It is possibly best known for making Gunpla, which are plastic models of Gundam. Many of these models are only sold in Japan. But they also have the rights to license other popular brands, such as Ultraman, Kamen Rider, and Power Rangers.
Premium Bandai, which is shortened to P-Bandai, is a great place to buy high-quality toys and models if you like Japanese pop culture.
Premium Bandai is for people who like Gundam, the Dragon Ball series, or Kamen Rider. Bandai has many exclusive licenses for famous shows that are hard to get, so many of the things on this website are only available in Japan.
---
What is P-Bandai?
Premium Bandai, also known as P-Bandai, is an online store run by Bandai that sells products from popular anime shows. It often has exclusive deals with other Japanese companies. Fans of Mobile Suit Gundam know them for their Gunpla kits. Bandai has moved into areas like clothes and accessories, as well as making Gunpla kits. They sell things like watches, rings, and chains that are all based on anime characters or shows. In their fashion partnerships, they make things for both men and women, and many of the items can be worn by anyone.
Why shop at Premium Bandai Japanese online store?
P-Bandai is one of the best places to find rare toys and things because it is one of the biggest toy companies and has exclusive licensing rights to many brands. They are known for making great toys, figures, and models that you can only buy in Japan.
Bandai's goods are made with safe, high-quality materials and go through a lot of tests.
P-Bandai sells a lot of toy kits that are only available for a short time. Not many of these are easy to get outside of Japan. You might be able to buy them in Hong Kong and Singapore, but many of them are made to order and will sell out very quickly.
Bandai has great customer service. They are happy to help if the kits they send you are broken or missing things, and they work quickly to fix your problems.
P-Bandai has websites for people in the USA, Canada, Singapore, and other places, but the toys and hobby tools they sell are restricted. P-Bandai Japan is the place to go if you want to buy new and limited-edition Bandai toys and other items from Japan. Even though they don't ship internationally yet, Remambo will let you shop and have all your best things sent right to your door.
Read on for a simple step-by-step guide to buying from P-Bandai Japan.
Does the P-Bandai store ship overseas?
Not only do they have a very small selection of goods, but the Japanese website of Premium Bandai won't ship many of those things outside of Japan. In fact, their website suggests that people from other countries use proxies to buy things that they don't sell internationally. Remambo can help you!
Our proxy shopping service helps thousands of people living outside Japan buy from Japanese online stores that are usually impossible to purchase from when overseas.
How to order and buy from Premium Bandai?
Step 1: Go to https://p-bandai.jp/
Step 2: Search for items
Step 3: Copy product link and tell Remambo what to buy
Once you have found a product you want to buy on Premium Bandai website, copy the URL of the page. To do this, you will need to have the product page in front of you. Move the mouse cursor to the address bar, and then click Ctrl+A to select the entire URL. Press Ctrl+C to copy it. Now place your mouse on the "Product web page" field, then press Ctrl+V to paste the address of the product page.
Submit an order with Remambo and we will then process the purchase on your behalf.
→ By the way, you can always find Remambo "Add item URL" order form here: https://www.remambo.jp/neworder
Step 4: Pay for the order from your Remambo account page
Step 5: Consolidate and choose shipping method
You will receive a notification from us when your package is at the Remambo warehouse. From that moment, we can consolidate several of your orders together or repack the package if it is too big or fragile. Choose which items you would like to ship together, select shipping method and delivery address. You will be able to edit titles in the shipping label and customs declaration. Also you may leave a comment to our warehouse staff about your parcel.
Step 6: Pay international shipping cost
We will quickly ship the parcel to you. All our shipping methods have tracking numbers. Please wait for the parcel arrival. Happy shopping on Aniplex website!
Best Japan Proxy Shopping Service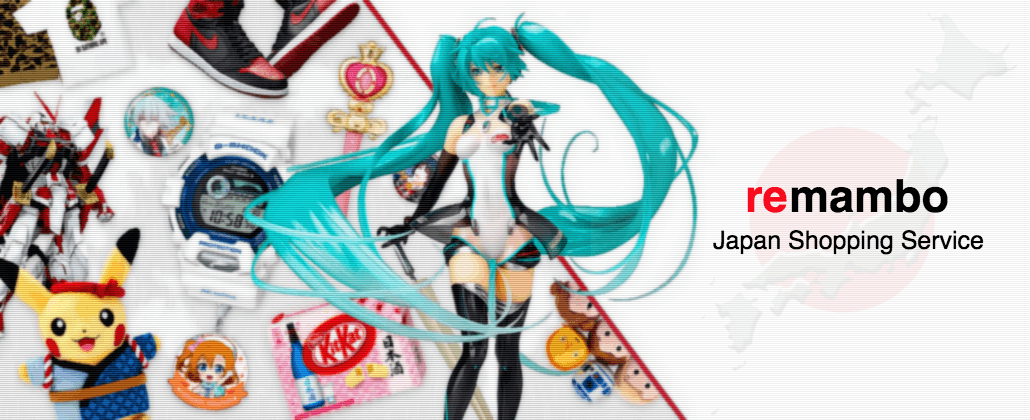 Do you love shopping in Japan? We created our service back in 2015 to help foreign customers who want to buy from Japanese online stores and auctions. We offer the easiest way to buy from Japan.
→ Try in now