---
In another article, we teach you about the Japanese skin routine. Now let's see something more interesting.
It's not a secret to anyone that the Japanese are pretty good in the high-tech industry. And they don't disappoint at all when they mix high-tech devices and skin routines.
There are many multi-action devices for the stimulation and maintenance of facial skin that complement and reinforce the effects of creams by allowing deeper penetration of the active ingredients. They can be used on skincare products in direct contact with the skin or on masks. It is easy to integrate them into your routine 2 to 3 times a week for 15 minutes. However, it can be challenging to find one's way around because the offer is so vast and in Japanese. Here are a few indications to help you understand how they work and their effects.
The ion dōnyū (イオン導入)
It is a technique that allows the introduction of ions via a weak electric current into the deeper layers of the epidermis.
In simple words, we have positive ions on the outer part of our skin and negative ions inside our skin. They both reject each other and create an electric barrier inside our skin that prevents the skincare from efficiently working.
When a microcurrent is applied to the skin by introducing ions, it passes through this electrical film. It allows ingredients such as vitamin C or amino acids to penetrate deep into the skin. This treatment eliminates and prevents spots and acne, and aging effects through anti-oxidation.
In terms of brands that offer this treatment on the Japanese market, we find Ebis, Ya-Man, Cosbeauty, or Panasonic for the most recognized.

The chōonpa dōnyū (超音波導入)
This technique uses ultrasound to allow the active ingredients to work their way into the dermis. When used with a chemical peel that removes the excess keratin layer, an even more efficient effect is obtained.
Among the brands that offer this treatment on the Japanese market are Bijouna, Belulu, Ya-Man, and Anlan, to name the most popular ones.

The electroporation (エレクトロポレーション)
Here we start to be more serious because this technique is way more potent than the two previous ones. The electroporation will simply open your pores with an electric current and will let pass through any big molecules such as Vitamin A and Collagen. This technique is mainly used in Japanese professional beauty salons. Until recently, the electroporation machines were only for professionals, but nowadays you can find machines for home-usage.
We find in this category the brands Parfait Luxe, Ohsdie, Artistic & Co, or Belulu.
All the machines presented offer not only electroporation but also combine ion dōnyū and chōonpa dōnyū treatments with EMS (electric muscle stimulation), which allows the firming of facial muscles and LED therapy, reinforcing the anti-aging, anti-spot, and anti-acne effects depending on the color selected.
Complete facial treatment in a single device. Where machines in the West only offer electric muscle stimulation or LED therapy, investing in this Japanese machine is very interesting.

The final boss: The Electric Bari Brush from GM Corporation (エレクトリックバリブラシ デンキバリブラシ)
We couldn't finish this article without talking about The Electric Bari Brush. It made lots of noise in Japan when GM Corporation released it on the public market. Those kinds of devices existed in Japan for a while but were only used by artists. But today, anyone can purchase it.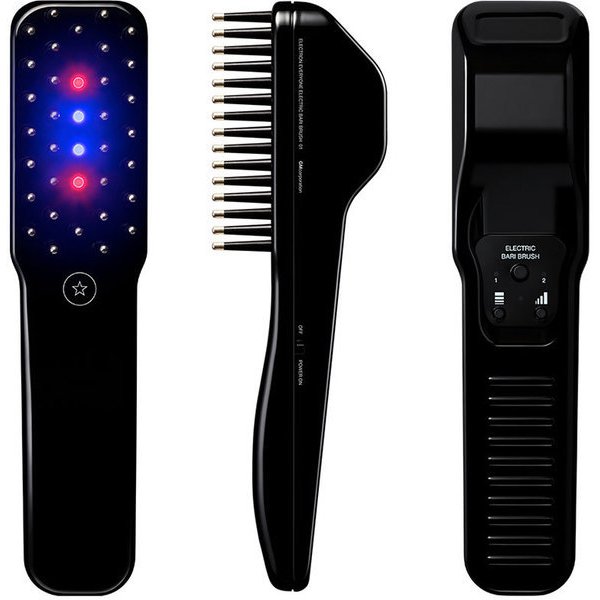 Even though this device has a bunch of benefits, such as fights against water retention, migraine, or edema. Or even a total relaxation of the muscles and the scalp with a detox effect. Its immediate lifting and "small face" effect interest us the most. The results are bluffing, and if you wanna see it by yourself, here are some videos of Japanese influencers testing the product.
エミリンvs20万円の電気バリブラシやったら悶絶したww
整形級に顔変わる美顔器で毎日詐欺ってるよ☺️👌❤️
If you got interested in these devices, we could help you purchase one of these high-tech gems directly in Japan and send it to you.
→ Try in now